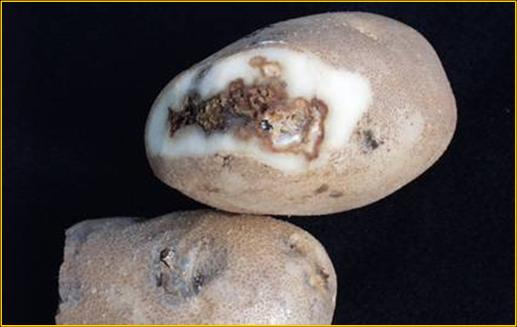 Due to the COVID-19 pandemic, Miller Research will not be holding its annual Potato Pest Management Meeting in person. Instead, we will be having four 1-hour virtual seminars where we will discuss four different topics related to potato disease management.
February 16, 2021 – Managing Fusarium Dry Rot and Rhizoctonia Canker and Black Scurf
We will discuss the susceptibility of different cultivars to Fusarium dry rot and review best management practices for avoiding dry rot in seed and at harvest. Dr. James Woodhall from the University of Idaho will join us to talk about different anastomosis groups of Rhizoctonia and we will talk about the results of recent fungicide trials for managing Rhizoctonia canker and black scurf.
One ISDA pesticide recertification credit and one CCA (PM) have been awarded.
To register for this session, click on the link below. You will be taken to a page where you need to enter your name and email address. After successfully registering, you will receive a confirmation email that contains the link to log into the session.
https://uidaho.zoom.us/meeting/register/tZYkduyvrDwtGNdc7SJrrjIH1htgusEiHOY4